Today, our guest post comes from Peter Gold, the CEO of Veraquest. His broad range of research experience lends itself particularly well to the world of omnibus research where clients tend to have an extremely diverse set of needs. Peter's background as a practice leader has enabled him to develop a business model that is rich in client-centric benefits while simultaneously being very cost-effective. Peter earned a BSBA from the University of Florida and holds an MBA from Boston College. His company, VeraQuest is a Sponsor at this year's The Market Research Event.
Game Changer
Stating the obvious, social media has transformed the way we interact with our world. No longer can media take days or weeks to reflect and report on a certain event or person. No way would that be permissible. In the new millenium, we expect our news immediately, concisely and visually. In the United States, about 6 in 10 online adults are searching the Internet every single day for news and information (and another 15% are checking the Internet weekly). That means 60% of all online adults can't wait even a day to consume the information they feel they need.
For personal (non-work use), social media has become nearly transcendent in the lives of online adults.
'Almost 2 in 3 online adults access social networking sites like Facebook or MySpace weekly or more often; and 46% access these sites every day. This is nearing the rate at which people use email' According to our data, 78% of online adults are emailing their friends and family on an at least a weekly basis; and 49% are doing so every day.
'Approximately 1 in 3 online adults access blogs on a weekly basis (and about 1 in 5 daily). This beats the 11% of online adults who shop online every day.
'About 1 in 5 online adults use Twitter at least once per week (and about 1 in 10 use Twitter daily).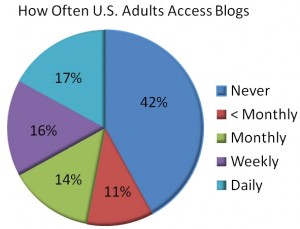 At work, social media isn't nearly as transformative, but still its presence cannot be dismissed. We have found recently that for work purposes on a weekly basis, about 1 in 4 online adults use social networking sites like LinkedIn or Facebook; 15% access blogs; and 13% use Twitter.
Our expectation is that these figures will only continue to grow. And, we will keep you apprised as we track these data to see if our hypothesis is correct and whether Americans' use of social media continues to evolve.
Next week, we will discuss whether the introduction and use of social media has had a positive or negative impact on our world. But before you get a look at that data, what's your perspective?